Surgical atlases reveal the intricate details of surgical procedures performed on every part of the human body. They come in handy for medical school surgery exams and real-life surgeries. They are particularly useful for senior-level medical students as well as surgery residents.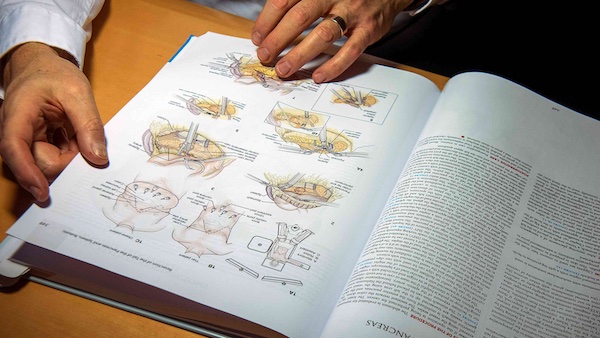 Best Surgical Atlases: Our Top Recommendations
There are quite a number of surgical atlases on the market, so making the right choice from the pack can be quite challenging.
Our experts have studied the market to find out the best surgical atlases available. This post will reveal our top six and why you should consider picking any of them. Let's get started.
To help you find out the best surgical atlases on the market currently, our experts have carefully combed the market. Here are our top six:
1. Zollinger's Atlas of Surgical Operations
Zollinger's Atlas of Surgical Operations is regarded by many professionals as one of the best texts in the surgical atlas category. While it has been around for over 50 years, this is a new edition that toes the line of the previous editions in its design.
The right page comes with stunning well-rendered line drawings accompanied by color highlights that depict every step that a surgeon should take before an operation. On the other page, there are formatted coverages of indications, anesthesia, preoperative preparations, operative preparations, position, incision and exposure, closure, procedures, and postoperative care.
This surgical atlas presents you with thirteen chapters that contain information about:
Laparoscopic surgery.

Robotic surgery.

Endovascular procedures.

Author (s)

: Robert Zollinger, E. Ellison, Timothy Pawlik, Patrick Vaccaro.

Publisher

: McGraw Hill

Current Edition

: 11th edition, Hardcover and Kindle (November 25, 2021)

Pages

: 640 pages
2. Netter's Surgical Anatomy and Approaches (Netter Clinical Science)
This text, Netter's Surgical Anatomy and Approaches presents you with a clear overview of incision sites, exposures, structures, common anatomical variants, fascial planes, and surgically relevant landmarks. All of these are relevant to different aspects of general surgical operative processes.
You can use this text in class or in the lab to have a clearer understanding of anatomy. It is also helpful as a trusted reference in the operating room. This text is a highly visual resource that presents you with loads of unmatched surgical anatomy illustrations. Here are some of the things you can expect to gain from picking up this surgical atlas:
Clarity on anatomy and procedures from a world-renowned surgeon's lens.

New content that includes more intraoperative imaging, surgical views, rectal prolapse, esophagogastrectomy, oncoplastic mammoplasty, and so on.

Over 30 videos highlighting anatomy that is relevant to different procedures.

An enhanced eBook version that provides access to the figures' text, and references in the print version on different devices.

Author (s)

: Conor MD Delaney MCh Ph.D. FRSCI ( Gen) FACS

Publisher

: Elsevier

Current Edition

: 2nd edition, Hardcover and eBook (September 24, 2020)

Pages

: 768 pages
3. Bourgery Atlas of Human Anatomy and Surgery
Jean Baptiste Marc Bourgery first introduced us to this Atlas of Anatomy and Surgery several decades ago. Despite being around for so long, this text is still regarded as highly comprehensive because of its beautiful anatomical illustrations. 
So far, there have been eight volumes of Bourgery's surgical atlas and each one covers surgical anatomy, descriptive anatomy, and surgical techniques. They explore almost every major operation that was carried out in the first part of the nineteenth century in detail.
This text also features spectacular hand-colored lithographs that are presented with amazing aesthetic appeal. Each image offers exceptional anatomical insight for medical professionals as well as students, artists, and other individuals interested in human anatomy.
Author (s)

: Jean-Marie Le Minor and Henri Sick

Publisher

: TASCHEN

Current Edition

: Multilingual edition, Hardcover (November 13, 2017)

Pages

: 722 pages
4. Atlas of General Surgical Techniques: Expert Consult
The Atlas of General Surgical Techniques presents a full spectrum of general surgery. It comes with close to 1200 anatomic drawings that are pretty easy to understand and follow. There is a step-by-step guide for both common and complex surgical procedures as well as minimally invasive and open techniques.
This atlas covers several hot topics including Parathyroidectomy, Choledochojejunostomy, Hernia repair, Thyroidectomy, and so on. Here are some of the things you can expect when you pick up this surgical atlas:
Access to about 1200 step-by-step, easy-to-follow anatomic drawings, each one clearly depicting the full spectrum of surgical techniques.

It provides instructions for different procedures in a highly consistent fashion so that they are easy to apply.

Detailed guidance from authorities regarding what you should know about both challenging and common procedures.

Author (s)

: Courtney M. Townsend Jr. and B. Mark Evers

Publisher

: Saunders

Current Edition

: 1st edition, Hardcover and Kindle (April 16, 2010)

Pages

: 1216 pages
5. Atlas of Suturing Techniques: Approaches to Surgical Wound, Laceration, and Cosmetic Repair
The Atlas of Suturing Techniques presents you with the building blocks of wound repair and suturing at a glance. This surgical atlas is pretty easy to understand and shows the author's vast expertise in this field. It begins with chapters that show the principles of wound repair and management before explaining positioning, equipment, and other essential principles.
In the next section, the author covers about 75 suture techniques by providing detailed instructions, photos, and drawings for each technique. The last section presents you with information about each aspect of anatomy as well as the right suture to use for different procedures. This text comes with 80 videos as well as helpful anatomical orientation.
Author (s)

: Jonathan Kantor

Publisher

: McGraw Hill

Current Edition

: 1st edition, Paperback and Kindle (January 29, 2016)

Pages

: 368 pages
6. Atlas of Surgical Techniques in Trauma
Atlas of Surgical Techniques in Trauma seeks to deal with the growing lack of expertise that is becoming a norm among surgeons, especially those dealing with severely injured patients. It is very comprehensive and provides a visual, in-depth guide to both common and uncommon trauma procedures.
This text presents you with more than 900 color photographs and illustrations of very high quality as well as step-by-step guides for different procedures. It also covers common technical pitfalls, procedural sequencing, and practical surgical anatomy. The atlas introduces several techniques that were not in practice when the first edition was published. It is perfect for trainees and professional trauma surgeons as well as general surgeons and critical care personnel.
Author (s)

: Demetrios Demetriades (Editor), Kenji Inaba (Editor), George Velmahos (Editor)

Publisher

: Cambridge University Press

Current Edition

: 2nd edition, Hardcover, and eTextbook (January 2, 2020)

Pages

: 477 pages