Neuroradiology is a multidisciplinary field that uses imaging and therapies to diagnose and treat abnormalities of the brain, spine, neck, and nervous system.
Qualified neuroradiologists are experts at using CT, MRI, MEG, and PET among others to diagnose and treat brain tumors, stroke, spine disease, vascular diseases, brain malformations, and other neurodegenerative/neurologic diseases.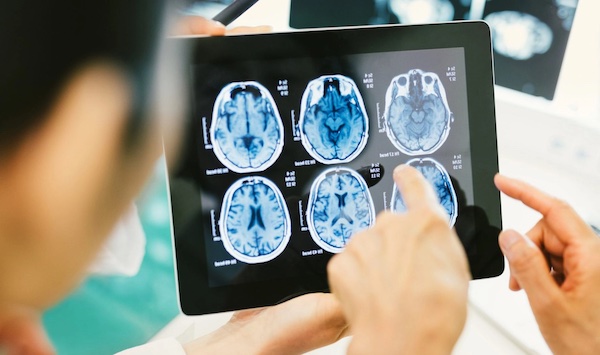 It must be pointed out that neuroradiology is a subspecialty of radiology – meaning that you must first qualify as a radiologist before advancing for further studies to qualify as a neuroradiologist. Having become a certified neuroradiologist, you can use minimally-invasive and image-guided surgery to treat diseases of the brain, neck, spine, and nervous system.
As a licensed and certified neuroradiologist, you can choose to be a specialist in brain tumor imaging and brain MRI; ear, nose, throat, and neck imaging; stroke and vascular imaging; magnetic resonance spectroscopy; imaging of neurodegenerative disorders; epilepsy imaging; CSF leaks; interventional angiography; and central nervous system trauma; and functional MRI and magnetic source imaging among others.
Best Neuroradiology Textbooks: Our Top Recommendations
If you ever need relevant textbooks to help you in any of the above areas, below is our list of the 6 best neuroradiology textbooks recommended for you.
1. Neuroradiology: The Requisites (The Core Requisites)
Recommended for clinical practice and ABR examination, Neuroradiology: The Requisites covers the "conceptual, technical, and interpretative core knowledge needed for imaging the brain, spine, and head and neck, and discusses all the latest imaging modalities used, including diffusion-weighted imaging, perfusion imaging, MR and CT angiography, and MR spectroscopy" among others.
With more than 1,200 high-resolution images and topical subjects organized by diseases and locations, this neuroradiology textbook is invaluable to radiology/neuroradiology students and practitioners alike.
Featuring a quick reference table for diagnosing and treating neurologic conditions through non-invasive imaging, this book's user can also obtain insights into neuromyelitis optica (NMO), reversible cerebral vasoconstriction syndrome (RCVS), immune reconstitution inflammatory syndrome (IRIS), and lgG4 inflammatory diseases among others.
Author(s): Rohini Nadgir and David M. Yousem
Publisher: Elsevier
Current Edition: Hardcover, 4th Edition (July, 2016)
Pages: 640
2. Neuroradiology: A Core Review
This neuroradiology textbook is specifically written for candidates wishing to sit for Core Examination and clinical specialists desiring to sit for recertification examinations. The Neuroradiology: A Core Review is an academic resource that contains more than 300 topical exam questions and answer references, as well as the full range of subjects under neuroradiology at all academic levels.
If are sitting for a board examination to qualify for a career in neuroradiology, then you must acquire this book to improve your chances of success. It is written by a team of academic and professional neuroradiologists with more than 40 years combined experience in the field and clinical practice – you can tap into their skills and experience by having this book.
Author(s): Prachi Dubey; Sathish K. Dundamadappa; Daniel Ginat; Rafeeque Bhadelia; and Gul Moonis
Publisher: LWW
Current Edition: Paperback, 1st Edition (January, 2018)
Pages: 521
3. Neuroradiology Signs
In its first edition, Neuroradiology Signs is written for students sitting for board examinations and clinicians who require concise and succinct reference materials to stay updated.
According to the authors, this neuroradiology textbook contains a "review of more than 440 neuroradiologic signs in CT, MR, angiography, radiography, ultrasound, and nuclear medicine…designed to enhance your recognition of specific imaging patterns, and enabling you to arrive at an accurate diagnosis" in no time.
This textbook covers seven topical chapters that cover adult and general brain; pediatric brain; head, neck, and orbits; vascular; skull and facial bones; vertebrae; and spinal cord and nerves. It equally features expert-reviewed references, modalities, differential diagnosis, and imaging findings among others.
It comes loaded with hundreds of full-color images and topical illustrations that teach users what each neuroradiology sign means in clinical practice. You will easily understand each section without a teacher overlooking your shoulders and you can easily implement what you read in any academic or clinical settings.
Author(s): Mai-Lan Ho; Ronald Eisenberg
Publisher: McGraw Hill
Current Edition: Hardcover, 1st Edition (June, 2014)
Pages: 496
4. Neuroradiology: Spectrum and Evolution of Disease
If you desire to become the next expert in neuroradiology imaging interpretations, then you might as well obtain a copy of Neuroradiology: Spectrum and Evolution of Disease.
Written by a team of academic and professional clinicians, this neuroradiology textbook helps the user understand the evolution and treatment of neural diseases. It is written and arranged in a manner that reveals the pathologic evolution of diseases – through clinical imaging – from first occurrence through progression stages.
Given the characteristic way this book was written and designed, the user will understand the progression of any disease through interpretative imaging techniques and skills.
Using chronological indicators, the user will understand and interpret disease progression through specific imaging characteristics and annotations that highlight atypical revelations.
As a professional clinician or certification candidate, you will easily interpret and treat neural disorders based on the stages of their development and evolution.
Author(s): Juan Small; Daniel Noujaim; Daniel T. Ginat; Hillary R. Kelly; and Pamela W. Schaefer
Publisher: Elsevier
Current Edition: Hardcover, 1st Edition (November, 2018)
Pages: 408
5. Neuroradiology: The Essentials with MR and CT
Students preparing for neuroradiology board examinations are advised to obtain a copy of Neuroradiology: The Essentials with MR and CT to improve their chances of passing their exams.
General radiologists and neuroradiology fellows will also benefit immensely from this neuroradiology textbook given its real-world clinical case studies, 1,300 high-resolution images, topical coverage, and international expert inputs.
In its second edition, this practical academic resource for clinical neuroradiology is designed to cover three major subjects – brain, spine, and head and neck. It was written by a world-renowned neuroradiologist and MRI pioneer with more than 30 years experience in clinical and certification processes.
The clinical cases referenced in the book involve the use of advanced imaging techniques that include perfusion, spectroscopy, and high-resolution imaging among others.
Author(s): Val M. Runge
Publisher: Thieme
Current Edition: Paperback, 2nd Edition (September, 2020)
Pages: 252
6. Critical Findings in Neuroradiology
The major feature of this book is that it is written from a "critical findings perspective," enabling physicians and radiologists to understand the immediacy of referring ill or injured patients based on critical neuroradiological findings.
This neuroradiology textbook provides clinicians and trainees with the clear guidance needed to make immediate decisions based on interpretations obtained from diagnostic imaging.
According to the authors, Critical Findings in Neuroradiology offers a "practical and illustrative approach that identifies what to look for and how to report it and describes the required follow-up and the most common differential diagnoses of the main critical findings in neuroradiology."
Once users are able to apply the guidance for referring patients or taking treatment decisions based on critical findings, they will be able to save time and avoid costly errors that could cost the lives of critically-ill patients.
This reference textbook contains hundreds of high-resolution images and crispy illustrations that help users understand what they are reading in the book and to implement them easily in academic or clinical settings.
This book is therefore recommended for medical residents and fellows in training as well as candidates in radiology training programs so that they can be better equipped to pass targeted examinations and make a success of their professional careers.
Author(s): Renato Hoffmann Nunes; Ana Lorena Abello; and Mauricio Castillo
Publisher: Springer
Current Edition: Hardcover, 1st Edition (May, 2016)
Pages: 548