Also known as the law of nations, international law is the body of agreements and treaties which govern how countries interact with one another in areas of business, diplomacy, economic matters, human rights, and war among others.
These systems of law operate largely by consent since there is no universally accepted authority to force other nations to abide by them – the United Nations with 192 country members however tries to force obedience to the treaties.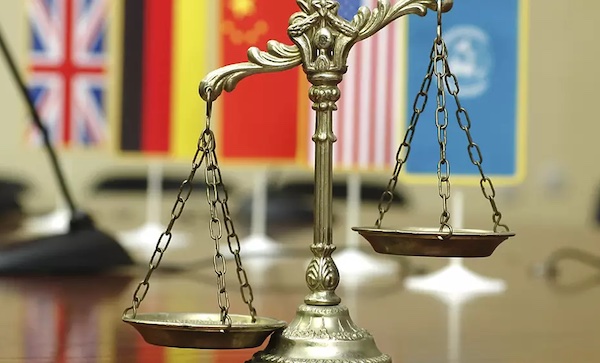 International law is generally divided into private international law and public international law. Private international law applies to the people or businesses of one country operating in another country.
For instance, if an oil tanker owned by a US company is caught lifting oil illegally in Nigeria, private international law would apply. Public international law relates to the maritime, economic, diplomatic, environmental, and humanitarian relationships that exist between several countries.
Best International Law Textbooks: Our Experts' Top Picks 
Are you still interested in learning the nitty-gritty of international law? Then we recommend 5 best international law textbooks written by university professors, ambassadors, international lawyers, and top political scientists around the world.
These 5 best international law textbooks were handpicked by our editorial team and in-house reviewers and presented for their clarity, comprehensiveness, formats, and affordability for all. 
1. International Law
If you are a lawyer engaged in private or public practice, or you are a private or public individual engaged with governmental service and international organizations, you might want to consider owning a copy of International Law. Also suitable for students studying political science, law, and economics, this textbook provides the academic grounding you require to excel at your examinations. 
This 9th edition of the international law textbook has been revised and updated to include new sections on space law, international economic law, cyber operations, cyber security and warfare, and the COVID-19 pandemic. The clarity of expression and academic rigor with which this edition is prepared makes it the most detailed referencing material that students need for further study.
Author(s):

Malcolm N. Shaw  

Publisher:

Cambridge University Press  

Current Edition:

Paperback, 9th Edition (September, 2021) 

Pages:

1,308
2. Textbook on International Law: Seventh Edition
Written by a Fellow in Law at Queens' College, Cambridge, and a Reader in Law at the University of Cambridge as well as someone who worked as a legal officer for the United Nations, this international law textbook remains the best on the subject of international human rights, cyber operations, space and maritime, business and economics, as well as treaties and agreements between nations. 
This 7th edition of Textbook on International Law is recommended for students just starting out on the subject. The author writes concisely to focus on the fundamentals and essentials of international law and examines the nature and sources of these laws as well as the legal principles and controversies they are subjected to. From the use of force to human rights, the author provided topical examples to illustrate key concepts.
Author(s):

Martin Dixon  

Publisher:

Oxford University Press  

Current Edition:

Paperback, 7th Edition (June, 2013) 

Pages:

393
3. International Law: Norms, Actors, Process [Connected eBook with Study Center] (Aspen Casebook)
Written by top international law scholars, this textbook is recommended for students and professors, and businesses engaged in international trade. This current masterpiece examines the Julian Assange case, the challenges of cyber espionage, challenges of artificial intelligence and autonomous weapons, sexual assaults by UN peacekeepers, the role and legitimacy of international courts, as well as the Paris Accord on Climate Change among others.
According to the authors, this textbook used "real-life case studies as teaching problems and explores the processes for making and applying international law with an interdisciplinary approach that goes beyond mere doctrinal explanation." This academic material is therefore recommended for scholars, students, lawyers, diplomats, and everyone traveling from one country to another. 
Author(s):

Jeffrey Dunoff; Monica Hakimi; Steven Ratner; and David Wippman  

Publisher:

Aspen Publishing  

Current Edition:

Hardcover, 5th Edition (February, 2020) 

Pages:

862
4. International Law
This international law textbook examines the cases, treaties, documents, and materials that establish or disprove laws that countries have consented to. But beyond these, this comprehensive textbook focuses on international jurisdiction, immunity, extradition, maritime and environmental laws, international courts and tribunals, international criminal law and terrorism, the use of force, and laws surrounding armed conflicts, among other key topics.
Written for use in classrooms by professors and students, users will benefit from the 216 PowerPoint slides that come with a purchase, as well as the questions that follow every case examined in the book. The textbook uses narrative explanatory sections to set forth key concepts and aid comprehension when adopted by students, scholars, professors, and general users. 
Author(s):

Valerie Epps; John Cerone; and Brad Roth  

Publisher:

Carolina Academic Press  

Current Edition:

Kindle, 6th Edition (August, 2019) 

Pages:

N/A
5. International Law (Aspen Student Treatise Series)
This international law textbook is written to be "an ideal student companion guide to any law school casebook on international law." Suitable for law school students, professors, scholars, ambassadors, embassy staff, and international companies and organizations, this textbook is a veritable tool for understanding and applying international law to all cross-border boundaries. 
This academic resource incorporates helpful features that include a glossary, chapter summaries, and further reading for improved comprehension. Fully updated to reflect recent development on space law, international economic law, cyber operations, cyber security and warfare, and the COVID-19 pandemic, this textbook helps students and scholars to understand the demands of international laws. It is recommended that users purchase this book for optimal class and professional performance.
Author(s):

Mark Weston Janis  

Publisher:

Wolters Kluwer

Current Edition:

Paperback, 7th Edition (December, 2015) 

Pages:

428
Final thoughts
With treaties and agreements being the basis of most international relations, the 5 best international law textbooks reviewed in this guide will empower users to excel at academic and professional engagements.
Written for students, professors, scholars, embassy staff, government workers, ambassadors, politicians, and international businesses and organizations, these 5 best international law textbooks provide all the knowledge there is in understanding and appropriating international agreements and laws.