Gastroenterology is the branch of medicine that deals with the health and diseases of the gastrointestinal tract. The study focuses on the entire digestive system – from mouth to anus – and its disorders. This branch of medicine includes the study of the functions and disorders of the esophagus, stomach, small intestine, colon, rectum, pancreas, gallbladder, liver, and bile ducts.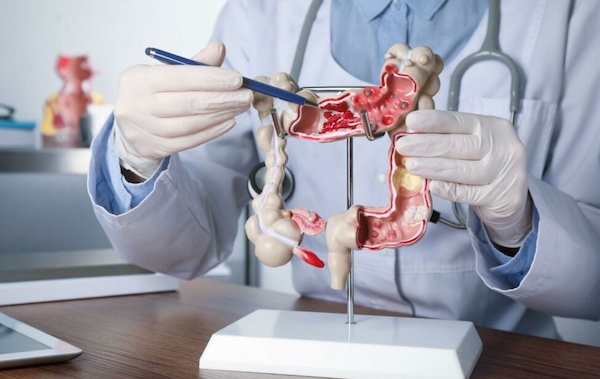 A gastroenterologist is a medical expert who diagnoses and treats conditions affecting the internal organs of the body. To qualify as a gastroenterologist, a physician must have completed 8 years of medical school, 3 years of internship or residency, and another 3 years in the gastroenterology fellowship. 
After graduating from university or medical school, a potential gastroenterologist will undergo 5-6 years of specialized training before qualifying to practice.
Best Gastroenterology Textbooks: Our Top Recommendations
Whether you are a student or practitioner, below are the 5 best gastroenterology textbooks specifically recommended to take you to the top of your game.
1. Gastroenterology Clinical Focus: High yield GI and hepatology review- for Boards and Practice
This gastroenterology textbook is one of the most recommended academic resources to have in terms of the diagnosis and management of GI disorders, hepatology, IBD, pathophysiology, and the use of endoscopy – upper endoscopy, sigmoidoscopy, and colonoscopy – among other necessary tools. It covers the essentials and advanced topics of GI as known in the medical sector today. 
Written for GI trainees, practicing gastroenterologists, GI advanced practice providers, and hepatologists among others, this book has highlighted guidelines, clinical presentations, colorful figures and illustrations, study highlights, as well as more than 30 endoscopic teaching videos that can be accessed via QR codes on smartphones. If you want, you can even listen to the content on an Alexa smart speaker.
Author(s):

Emad S. Qayed  

Publisher:

Independently published  

Current Edition:

Paperback, 3rd Edition (January, 2022) 

Pages:

350
2. CURRENT Diagnosis & Treatment Gastroenterology, Hepatology, & Endoscopy, Third Edition (Lange Current)
This gastroenterology textbook is designed in a manner that "puts the most important insights on managing digestive and hepatic diseases in the palm of your hand." Completely revised and updated in its current form, this textbook covers the entire gamut of diagnosing and treating liver and digestive tract disorders. 
Written by core specialists at Harvard Medical School and Brigham and Women's Hospital, this textbook all aspects of gastroenterology, hepatology, and endoscopy. It also includes the latest breakthroughs in research fields as they relate to Barrett's esophagus, eosinophilic esophagitis, esophageal motility disorders, inflammatory bowel disease, and other conditions.
Written in plain language and filled with loads of colorful images, this book is recommended for anyone who desires to pass medical examinations with ease and succeed in clinical settings. 
Author(s):

Norton Greenberger; Richard Blumberg; and Robert Burakoff 

Publisher:

McGraw Hill  

Current Edition:

Paperback, 3rd Edition (October, 2015) 

Pages:

656
3. The Washington Manual Gastroenterology Subspecialty Consult (Washington Manual Subspecialty Consult)
Authored by fellows and faculty members of the Washington University School of Medicine in St. Louis for internists, residents, fellows, and practicing physicians, this gastroenterology textbook won the selection for Doody's Core Title for 2021. This academic resource is recommended for the management of common gastrointestinal disorders and diseases within and outside clinical settings. 
It is very suitable for users who need quick access to the latest scientific knowledge on all aspects of gastroenterology, including liver transplantation, genetic testing for gastrointestinal diseases, nutrition and malnutrition, as well as other related internal or organic issues.
The book contains bulleted lists and illustrative diagrams as well as new chapters on the latest research in the field. It is recommended for students and residents as well as healthcare professionals who want to become distinguished consultants in the field. 
Author(s):

Chandra Gyawali  

Publisher:

LWW  

Current Edition:

Paperback, 4th Edition (September, 2020) 

Pages:

408
4. Netter's Gastroenterology (Netter Clinical Science)
Netter's Gastroenterology in its 3rd edition covers the latest clinical research in gastroenterology, hepatology, and nutrition among others. It is written for residents, generalists, internists, nurses, and healthcare professionals who attend to patients presenting with gastrointestinal issues. It is written by a team of professional gastroenterologists and faculty members for everyone aiming for certification in the branch of medicine. 
Well-formatted for easy and fast digestion, this gastroenterology textbook has nearly 200 clinical studies on real gastrointestinal cases, more than 300 color images and visual representations, 25 printable patient education brochures included in the eBook version, as well as topical aspects of pathophysiology, anatomy, and GI diagnosis and treatment, among others. This book is well-recommended for users who cherish the outstanding works of Frank H. Netter and his successor, Carlos Machado.
Author(s):

Martin Floch; C.S. Pitchumoni; Neil Floch; Raul Rosenthal; and James Scolapio 

Publisher:

Elseview  

Current Edition:

Hardcover, 3td Edition (April, 2019) 

Pages:

688
5. Integrative Gastroenterology (Weil Integrative Medicine Library)
Integrative Gastroenterology is a holistic GI textbook that covers the diagnosis and management of gastrointestinal troubles through integrative approaches of diet, homeopathy, yoga, and meditation rather than relying only on pharmacological treatments which may have toxic side-effects. It is written to enable medical residents and expert practitioners grasp the essentials and fundamentals of managing basic and serious gastroenterologic conditions. 
According to the author, the textbook covers gut microbiome, internal organs, latest advances in physiology, as well as "include a diverse range of treatment methods, such as probiotics, meditation, massage, yoga, supplements, special diets, energy medicine, homeopathy, and acupuncture, as well as a special section devoted to mind-body medicine in digestive health and disease."
Author(s):

Gerard E. Mullin  

Publisher:

Oxford University Press  

Current Edition:

Paperback, 2nd Edition (October, 2019) 

Pages:

688
Wrap-up
The best gastroenterology textbooks reviewed in this guide were handpicked by our in-house editors and reviewers based on the current curriculum in most medical schools and the needs of clinicians in hospital settings. They will help the reader grasp the fundamental and advanced aspects of gastroenterology on the go, and also help those planning to write certification examinations. These books are cheap and affordable, and they are very concise and full of color images for easy comprehension.