Veganism is not a recent nutritional or lifestyle development – it has been around for more than 70 years – although it has undergone a lot of modifications in recent times.
According to the Vegan Society, the word "vegan" was coined in 1944 when a number of vegetarians exited the Leicester Vegetarian Society in England to establish the Vegan Society group.
So what is veganism?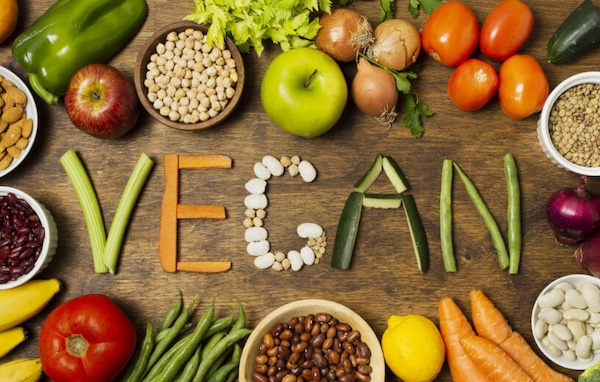 Veganism is the philosophy and lifestyle where people choose to exclude all fish, birds, and animal products from their meals and way of living.
This means that vegans do not eat meat, fish, poultry – and derivatives such as eggs, honey, milk, and cheese among others. They also do not use animal byproducts such as wool clothes, leather furniture, down pillows/comforters, and latex/cosmetics/soaps/candles made from animal fats or source ingredients.
Vegans may even refuse to go to zoos or the circus. For ethical, health, and environmental reasons, vegans will not eat, touch, or deal with animal products because they want to prevent or avoid animal cruelty, exploitation, and killings.
They would rather eat plant-based diets such as cereals, grains, vegetables, nuts, seeds, and pulses than have anything to do with products of animals/birds/fish that were subjected to pain and suffering and then killed.
Best Books on Veganism: Our Top Recommendations
Whether you're just curious about what veganism entails, or you're considering adopting it as your new lifestyle, here are some of the best books to teach you about veganism and vegetarianism.
1. Becoming Vegan: The Complete Reference to Plant-Based Nutrition
This book teaches all there is to know about veganism and vegetarianism and serves as complete reference material on the subject. It explores the world of plant-based nutrition and the rationale behind going fully vegan. It explains why many people are choosing a plant-based diet and eschewing animal-based diets – as well as the health benefits of such decisions.
This book on veganism was written by authors who are registered dietitians and public speakers on veganism and vegetarianism. They are executives of the highest vegetarian groups within and outside the United States and even taught nutrition at various universities while being inducted into vegetarian societies' Hall of Fame.
Author(s): Brenda Davis and Vesanto Melina
Publisher: Book Publishing Company (TN)
Current Edition: Paperback, Comprehension Edition (August, 2014)
Pages: 624
2. The Vegan Starter Kit: Everything You Need to Know About Plant-Based Eating
The Vegan Starter Kit covers everything on plant-based diet and preparing them for the best nutritional benefits. If you are unsure of the nutritional values of your vegan diet and desire to be certain about how much carbohydrates, protein, vitamins, and others are in your plant-based meals – then you must get this book to learn this.
In this vegan book, you will understand the best ways to prepare plant-based meals without cooking them, how much nutrition is in each meal, how to adjust meal compositions to achieve desired nutritional benefits, how to lose or gain weight with vegan diet, and what vegan choices to go for at public restaurants.
According to the author, The Vegan Starter Kit also "includes information on healthy eating in childhood, pregnancy, fasting, and other stages of life; and a complete set of basic meals, holiday feasts, snacks" and vegetarian meals for social occasions. Obtain this book to learn more.
Author(s): Neal D. Barnard
Publisher: Grand Central Publishing
Current Edition: Paperback, 1st Edition (December, 2018)
Pages: 176
3. Rebel Vegan Life: A Radical Take on Veganism for a Brave New World
An activist and environmental campaigner, the author of this vegan book said "the problem (of changing our world through our food choices) is on our plate, and so is the answer." He insists that one of the major ways to transform our world in a post-COVID-19 pandemic era is to embrace veganism and vegetarianism – but he pushes this agenda without seeming to or making anyone feel guilty for not complying.
In Rebel Vegan Life, the author explores a radical position on veganism for a "brave new world," saying this book will "transform your health and protect the environment with a cruelty-free" plant-based diet and lifestyle that must be experienced to be understood. This book is the first of a trilogy on the vegan lifestyle, and you must acquire it to understand the foundation upon which many people remain happy as true vegans and vegetarians.
Author(s): Todd Sinclair
Publisher: Intrepid Fox Publishing Ltd
Current Edition: Paperback (November, 2021)
Pages: 210
4. 72 Reasons to Be Vegan: Why Plant-Based. Why Now.
In 72 Reasons to Be Vegan, the authors justify the reasons to be vegetarian or vegan from a health, environmental, financial, and lifestyle angle. The authors argue that embracing a vegan lifestyle and diet would improve your overall health, improve your sexual performance (by the way, who doesn't want to be a real stud in bed), and help you save money.
In 72 Reasons to Be Vegan, the authors reveal that you can save money, ward off debilitating illnesses, enjoy nutritious meals, and enjoy better sex via plant-based diet.
According to a reputable reviewer, this vegan book is a "must-read for anyone concerned about the future of our planet, their own health, or the moral ramifications of meat-eating," and those are strong factors in the decision to acquire this vegan literary resource.
Author(s): Gene Stone and Kathy Freston
Publisher: Workman Publishing Company
Current Edition: Paperback, Annotated Edition (March, 2021)
Pages: 208
5. Veganism in an Oppressive World: A Vegans-of-Color Community Project
Veganism in an Oppressive World covers the activism that surrounds a vegan lifestyle by people of color and others within the LGBT community.
This book also raises the bar for campaigning for the rights of animals that are slaughtered for food, arguing that the rights of such animals are not only violated but subjecting them to pain and suffering and killing them in violent manners are unacceptable.
Using veganism among people of color as a basis for campaigning for animal rights, they emphasized that vegans are living in an oppressive world – and a sweeping movement is needed to bring about the needed changes. There are academic essays, personal reflections, and soul-searching poems that question the status-quo on animal rights movement as well as humans sidetracked on the societal problem of dieting and socio-environmental justice.
Author(s): Julia Feliz Brueck
Publisher: Sanctuary Publishers
Current Edition: Paperback (November, 2017)
Pages: 162
6. Why Veganism Matters: The Moral Value of Animals
Why Veganism Matters is all about the "personhood" of animals and their rights; and that it is not acceptable to kill animals – even "humanely" let alone eat or use their byproducts. The author argues that it is not even right to use animals as property, resources, or commodities – that is, they ought not to be used as pets or watchdogs or for assisting the disabled.
If you share these beliefs as a vegan, then this is the book for you to obtain to promote your views. Many vegans and animal activists believe that "veganism is a moral imperative and a matter of justice" and that most people "have a moral obligation to become vegan."
Why Veganism Matters is the recommended book for you if you are strictly vegan or vegetarian. Purchasing it in its paperback or Kindle edition would not only satisfy your diet needs, it will also promote your campaign to respect the rights of animals and to protect our world.
Author(s): Gary Francione
Publisher: Columbia University Press
Current Edition: Paperback (April, 2021)
Pages: 224