Whether you're currently in a relationship or haven't been in one for a long time, you probably know a thing or two about jealousy. It usually starts as a sweet, stubborn attachment to a loved one. As time goes on, it becomes an embarrassing and annoying situation. The jealous party begins to monitor the other's movements and phone calls. Emotional abuse of some sort usually follows.
The male or female who is filled with jealousy causes problems without realizing it. They fail to understand that this behavior is only a projection of their insecurities and doubts. It results in a toxic atmosphere and an unhealthy relationship.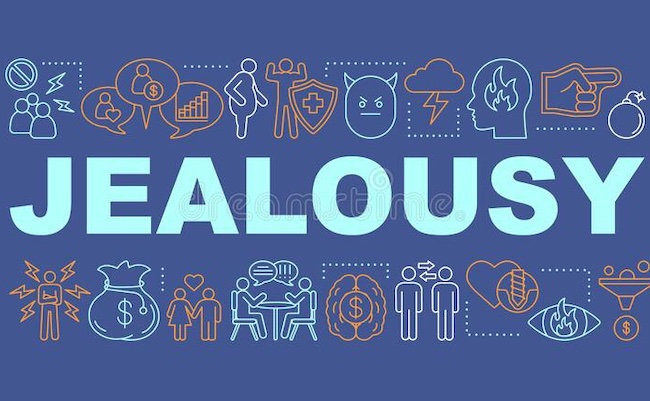 Best Books on Jealousy in Relationships: Our Top Picks
It takes a careful study of some of the best books on jealousy in relationships to fully grasp the depth of the subject. That is also the first step to overcoming the challenge. You can start with the following six titles.
1. The Jealousy Cure: Learn to Trust, Overcome Possessiveness, and Save Your Relationship
Written by Robert L. Leahy, this work was recommended as a self-help book by the Association for Behavioral and Cognitive Therapies. That is a testament to the value that it contains. In The Jealousy Cure, the author discusses how our ancestors acquired the personality trait called jealousy. He also reviews how it has shaped our lives and aided us in getting the things we want and need.
As a psychologist, Leahy dives into mindfulness, cognitive behavioral therapy, acceptance and commitment theory, plus emotional schema theory. He explains how they empower us to use jealousy as a force for good while conquering the embarrassment the green-eyed monster brings. As a proponent of the idea of getting a deeper understanding of our jealous feelings, the writer proposes open communication. This is usually a good idea in any romantic relationship as it builds a stronger connection between both parties.
In an interactive way, this book takes the reader on a journey to the root cause of their insecurities. It promotes a better understanding of the thoughts and actions that lead to that mental state and how to make them work for your good. This book is a must-have for psychologists and everyone who is in a relationship.
Author: Robert L. Leahy
Publisher: New Harbinger Publications
Current edition: 1st edition
Pages: 248
2. Overcoming Retroactive Jealousy: A Guide to Getting Over Your Partner's Past and Finding Peace
Based on personal experience and years of study, this work is a step-by-step guide to help you subdue retroactive jealousy. At the same time, it does the job of helping you build a healthier relationship. In it, Zachary Stockill – an award-winning researcher – details some simple exercises a couple can carry out to get over their distrust.
Using an autobiographical writing style, this book explores a way for partners to calmly navigate their past experiences. It sees retroactive jealousy as something that can be dealt with. There is a hint of making peace with the past and specific steps are explained.
If you're looking for a book that makes you feel understood, this publication is one of them. The thoughts and feelings that result in a negative view of the past are x-rayed. So also is the role of self-esteem in all of this.
Escaping the mind trap of unfair comparisons and harsh judgments is made a little easier with this book. But not without some decent effort on the part of the reader.
Author: Zachary Stockill
Publisher: CreateSpace Independent Publishing Platform
Current edition: 2nd edition
Pages: 106
3. Jealousy: How To Overcome Jealousy, Insecurity and Trust Issues – Save Your Relationship, Love Life and Emotions
There are plenty of real-life examples and solid advice on rising above insecurity and suspicion in relationships in this book. Sofia Price tells us how to break free from an endless cycle of damaged relationships and shattered hopes. Peace of mind and a happy love life is the ultimate goal of this author. This is why this book will make a worthy addition to your library.
While it acknowledges the importance of people in your life, this publication discourages dependence on them for happiness. A deep sense of self-worth and an acceptance of self are some of the pillars of this manual.
Some other things taught in this book include the causes of jealous feelings, ways to deal with them from within, and how to make connections that matter. Not to be left out is how to learn to love yourself, the way to change your view of the world around you, the skills behind nursing relationships, and how to vanquish your fears.
No matter the current state of your relationship, you will find that this book has a refreshing perspective to offer.
Author: Sofia Price
Publisher: CreateSpace Independent Publishing Platform
Current edition: 5th edition
Pages: 257
4. Anxiety In Relationship: Overcoming Insecurity and Negative Thinking…
If you've ever admired a couple in a long-term relationship, you will find this book interesting. The writer put the spotlight on how to nurture a loving, life-long relationship. Emphasis was put on the importance of healthy close connections for a successful career and life.
Additionally, the writer admits that the attachment styles of each person can be very different. The fact that it plays a huge role in determining the path your romantic life will take makes it even more important to understand one's attachment style.
There's also a deep dive into the reasons for anxiety in relationships as well as the difficulties and complexities they cause. Lessons in effective communication combined with revealing your true self to your partner are a part of this book. All the support you need to face the demons in your relationship and come off victorious can be found within the pages of this book.
Author: Happiness Factory
Publisher: Independently published
Current edition: 1st edition
Pages: 177
5. Anxiety In Relationships: How to Eliminate Panic Attacks, Insecurity, and Jealousy in Love.
With over 20 years of experience in the field of psychology at Harvard, Theresa William's thoughts in this book cannot be ignored. The publication takes an in-depth look at the nature of anxiety and the things that cause it. A way to restrain it is also carefully detailed. The different stages of a relationship are outlined and the main drivers of strife are spelled out.
Going further, the author takes a look at past relationships that crashed and ways to prevent them from influencing you. There's also a section on the fear of betrayal and methods to nip it in the bud. This dovetails with the subject of self-doubt and how to defeat it.
There's a part that deals with all the things that are wrong with jealousy and how it sabotages relationships. That leads to the part on how to handle a narcissistic partner. The specific mindset and approach to it are explained.
A high point of the book is the ten powerful tips for rising above anxiety and enjoying a delightful relationship. There's also a bonus chapter that lists five great meditation sessions useful for laying anxiety to rest.
Author: Theresa Williams
Publisher: Independently published
Current edition: 1st edition
Pages: 149
6. Anxiety In Relationship: How to Overcome Anxiety, Jealousy, Negative Thinking, Manage Insecurity and Attachment.
The ideas in this book carry a lot of weight. The author has a doctorate in couple therapy plus a decade of experience as a marriage counselor. During this time, she has helped thousands of couples rebuild their relationships. Melanie White describes her greatest discoveries as her "7 Golden Rules for Managing Anxiety in Relationships" and "9 Steps to Improve Couple Communication."
This work focuses on identifying anxiety and insecurity in relationships. The warning signs to look out for are described. There's also a pathway to overcoming them that is explained. Melanie draws on her experience as a therapist and offers rich advice on the subject. In many ways, this book is almost like a therapy session but at a fraction of the cost.
We also sense the wisdom gained from witnessing her parent's marriage crisis and the emotional pain it brought her. There is a section that delves into negative thinking and the fear of abandonment. The subject is closely examined and the ways to eliminate those thoughts and fears are discussed.
Jealousy and its many symptoms are described in this manual. How you can overcome it and build a relationship founded on mutual trust is another thing addressed in this work.
Conflict resolution, particularly in marriage, is taught by the author. She also ventures into ways partners can help each other when anxiety creeps in. Dr. White included a bonus section that lists the most common, dangerous mistakes people ruled by anxiety make. She also goes ahead to outline the seven golden rules for a joyful, enduring relationship.
Author: Melanie White
Publisher: For My Family Ltd
Current edition: 1st edition
Pages: 228