In the coastal state of Georgia sits this beautiful American city called Savannah. It is the oldest one in the state and is known for its lovely parks, majestic oak trees, horse-drawn carriages, and antebellum architecture.
Scary ghost stories combine with a rich cuisine to keep you on the edge of your seat and hungry for more. Founded in 1733, it is the first capital of the state of Georgia. Millions of people visit each year to explore its many historic buildings. Some of them include the Georgia Historical Society, the First African Baptist Church, and the Telfair Academy of Arts and Sciences.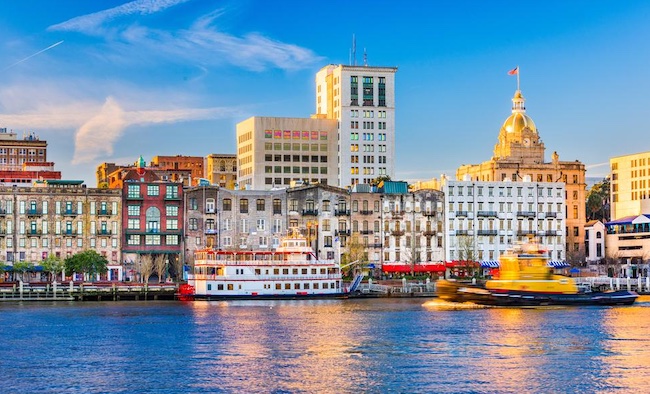 Best Books about Savannah, Georgia: Our Top Picks
Whether you are preparing for a trip to this city or you're just plain curious about this town, a handful of books will set you on the right path. Here are the six best titles you should start with.
1. The Savannah Walking Tour and Guidebook
This little handbook is an exhaustive guide containing more than 90 interesting spots in the city. Pictures, maps, and walking tours make it a tourist's delight. It gives you the feel of taking a walk back in time as it leads you through the town's days as a British colony to the present day.
Whether you choose to explore Savannah in a car or on foot, the alphabetical index and the map will serve as capable tour guides. There are four walking tours in the text – each of them takes less than an hour to complete on foot. It has historical markers that give interesting details about different points of interest on the route.
You can tell it was written by a native of Savannah – one who adores the city he grew up in. The historic photographs it contains take you through the breathtaking sights of this coastal city.
If you're looking for a booklet that will tell you all about this historic district with picturesque landmarks, this text written by a fourth-generation native is a good buy. You can use it to plan a vacation or just sit at home and learn about this charming section of Georgia.
Author: Paul C. Bland
Publisher: Coastal Books and Souvenirs
Current edition: 3rd edition
Pages: 32
2. Hidden History of Savannah
How do you feel about learning what most people don't know? If the thought of it brings you excitement and a sense of pride, this publication will warm your heart. It was written by two professional storytellers who are also public historians and owners of a touring firm. They take you through the stories that form the foundation of this historic city.
Reading this book will teach you a few things you didn't know and some you may already know. There are side subjects in each section and a short paragraph providing additional information.
Facts and folklore blend as one as the authors take you on a journey of discovery and appreciation of the marvels of this district. Stories of the wars and epidemics that plagued the town a long time ago are also not ignored in this dramatic work.
You'll learn about Mary Musgrove and Dr. Samuel Nunes – people whose names have been etched on the sands of time. They are larger-than-life figures who inspire awe and deep admiration. All of that and more in just over a hundred pages of text.
Authors: Brenna Michaels, T.C. Michaels
Publisher: The History Press
Current edition: 1st edition
Pages: 128
3. Savannah, 1733 to 2000
This publication is rich in vintage photographs sourced from the Georgia Historical Society. If you love taking a trip through time by looking at pictures that capture different eras, this book will serve you well. You will learn a lot about the rich architecture and beautiful parks that have charmed residents and visitors for three hundred years.
The stories of the big-hearted, hospitable people of this district are well told in this book. It discusses the history of Savannah from its founding in February 1733 to recent times. It covers times of war and peace, challenges, and prosperity.
You'll learn the history of its seaports, squares, and many industries. Little-known tales of monuments that no longer exist are also detailed in this work. There is also a retelling of the fire disaster of 1889 among other notable events.
Authors: Susan E. Dick, Mandi D. Johnson
Publisher: Arcadia Publishing
Current edition: 1st edition
Pages: 128
4. Fodor's InFocus Savannah: With Hilton Head and the Lowcountry
This book was written by a travel company with experience giving extensive travel advice to customers headed for 7,500 worldwide destinations. In their 80 years of existence, they've catered to a variety of tastes and budgets. This gives them a certain level of credibility.
In this work, the company showcases full-color pictures to spark your interest in the rich heritage of the city. There is also an illustrated guide meant to highlight fun things you can do in specific areas. Several itineraries to help you plan your day and organize your visits are also not left out. At least ten different maps are there to help you navigate easily.
An especially interesting feature is the section that lists honest recommendations from locals on places to visit. Natives are the best people to give advice on such matters. It is all too easy for a tourist to be misled into buying poor-quality food and drinks or visiting unsafe locations. Readers can discover the best restaurants, activities, and side attractions to choose from.
You will learn a lot about the cuisine, culture, politics, and music in the pages of this publication. The focus on accuracy and attention to detail also makes this book worth your while.
Author: Fodor's Travel Guides
Publisher: Fodor's Travel
Current edition: 6th edition
Pages: 224
5. Civil War Ghosts of Central Georgia and Savannah
As the name suggests, this text is a spooky tale of the coastal city of Savannah. It takes you through historical sites like the Andersonville Civil War Prison and the area of Sherman's March. Many deaths have occurred on these grounds. The author believes this is the cause of the many supernatural occurrences the area has witnessed. This work is an attempt at tracing the origin of the ghosts that are said to frequent the area.
Cobblestone squares, oak trees, and intricate architecture infuse this story with a rare beauty. If you love ghost stories that take you back in time and send a chill down your spine, this publication will appeal to you.
The author is a renowned writer who has contributed to two History Channel Documentaries. Five of his books have been featured by the History Book Club. He is also famous for writing seven books in the Civil War Explorer Series.
Author: Jim Miles
Publisher: The History Press
Current edition: 1st edition
Pages: 128
6. Savannah in History: A Guide to More Than 75 Sites in Historical Context
Savannah is an important city in the state of Georgia. Its ancient history and brilliant architecture have been admired by many for a long time. Colonial sites dot the landscape. The same thing can be said about its civil war locations and other significant areas.
In this book, the writers paint a crystal clear picture of the growth of the city. He starts with its beginning hundreds of years ago and explores the different changes that have brought it to this moment. He takes a look at the museums and other monuments that have come to be associated with this region.
The publication is small and can be read in a relatively short time. Still, that time amounts to a rich education in the history of Savannah. With its over 100 photographs and more than 75 sites of interest, this work will be a nice addition to your library.
Authors: Rodney Carlisle, Loretta Carlisle
Publisher: Globe Pequot
Current edition: Illustrated edition
Pages: 136
Conclusion
Every city has a story behind it. Some are well-known while others are only known by a few people. It is by committing to exploring the length and breadth of our planet that we can better appreciate those stories. In the process, we learn tolerance and respect for different cultures and traditions. We come to understand that there is no need to agree with a belief to respect it. All we have to do is try to understand the thinking behind it. This line of thinking will engender some unity in our divided world.
The city of Savannah definitely has a long and interesting history. Its natives have come a long way to get to where they are. Appreciating that fact teaches us to accept them as they are. When we dare to embrace people with all of their imperfections and struggles, we end up becoming better for it.
Time and again, it has been proved that learning about other cultures is a rewarding experience. In the case of Savannah, there is the added benefit of a deeper appreciation of beauty in art, music, and other areas of human endeavor.