If you are looking to ace A-level exams, you have to do better than recommended course textbooks. Every student has a way of studying and varying speed of comprehension. What interests Student A may not interest Student B, which is why textbook diversity is essential.
This article will expose you to a series of A-level chemistry written to simplify your high school journey. You can also do a bit of comparison or read people's reviews about each resource to decide which one fits your style of reading.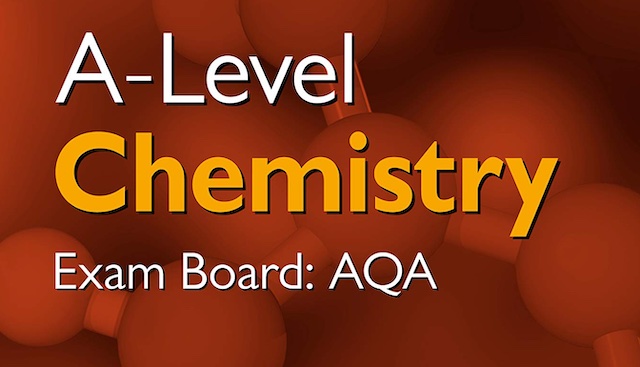 Best A-Level Chemistry Textbook: Top 7 Picks
When it comes to A-level textbooks, a good understanding of the syllabus is compulsory. There are a lot of general chemistry textbooks out there but these 7 are appropriate for all A-level students.  
1. Everything You Need to Ace Chemistry in One Big Fat Notebook
This book is a big package, no doubt, but it is not big for nothing. The topics in this material are explained with the highest level of simplicity. Starting chapter discusses atoms, elements, compounds, and mixtures using simple logic and examples.
Subsequent chapters talk about the periodic table, quantum theory, bonding, chemical reactions, had laws, solubility, pH scale, titration, and Le Chatelier's principle. Jennifer Swanson's textbook is a friendly guide with diagrams, mnemonics, doodles and quizzes to keep you in shape for A-level examinations.
If all you are interested in is an excellent alternative to your standard course books, get this material. It is a great guide for personal improvement and uses plain language and clear illustrations.
Author: Workman Publishing, Jennifer Swanson

Publisher: Workman Publishing Company 

Edition: Illustrated edition (September 1, 2020)

Pages: 528 Pages
2. Chemistry: The Central Science (MasteringChemistry)
This book is the second textbook in the MasteringChemistry series you should read. The first book (Introductory Chemistry) is all about having a strong foundation in basic chemistry topics. You must understand everything in the first book because all you have learned will be tested in Chemistry: The Central Science.
The book contains more questions and emphasizes scientific accuracy. This helps you identify your struggles and where you need to improve. The general chemistry textbook also encourages critical thinking and interaction thanks to the expertise of its award-winning authors.
The soft version of this book comes with extra learning channels like videos for students who wish to learn at a faster rate. Except you are buying the entire series, ensure you seek your instructor's guidance before you buy any book from the series. Your instructor knows you better and can easily tell you the one to start with.
Author: Theodore L. Brown, H. Eugene Lemay, JR., Bruce E. Bursten, Catherine J. Murphy

Publisher: Pearson

Edition: 14th edition (January 4, 2017)

Pages: 1248 Pages
3. Introductory Chemistry (MasteringChemistry) 6th Edition
Talked about it earlier, but now we are here. Just as every book has its pros and cons, there are books designed for different stages. The MasteringChemistry series is a compulsory buy if you are looking to ace your final examination.
However, if you cannot buy it all at once, we strongly recommend you start with Introductory Chemistry. It is the foundation you need to understand what chemistry is and how it manifests around you. Nivaldo (the author) did really well in ensuring students understand that chemistry is beyond what you see in the labs.
The books provide superior teaching and learning experience thanks to the inclusion of relatable applications and a preparatory writing style. It also comes with questions, tables, colorful illustrations, checkpoints, data interpretation and analysis.
Start the series with this book and find out why anyone can understand chemistry. You won't have to be told to complete the series before you do. Both hard and soft copies are available for sale.
Author: Nivaldo J. Tro

Publisher: Pearson 

Edition: 6th edition (January 4, 2017)

Pages: 840 Pages
4. Introductory Chemistry: Concepts and Critical Thinking
This book is another material you can trust for a sound introduction to chemistry. Its approach revolves around critical thinking and simplified solutions to problems.
Another unique selling point this material has is that all its materials – the textbook, solution manual, laboratory guide, instructor's guide and assessment item, are written by one author (Charles Corwin).
Corwin has taught different aspects of chemistry (from general chemistry to quantitative analysis) and his decision to focus on introductory chemistry continues to yield great results. This book is the confidence booster and performance tracker every A-level student needs.
Author: Charles H. Corwin

Publisher: Pearson

Edition: 7th edition (January 3, 2013)

Pages: 704 Pages
5. General Chemistry
This book is a ground-breaking textbook from McQuarrie. When professors go out of their way to review a book positively, you have to appreciate the efforts of the author. General Chemistry remains the gold standard for clear writing and problem-solving approaches.
It has an elegant design and is filled with descriptive chapters, illustrations, and an amazing homework program. This McQuarrie's book made the transition from the simplest topic (atoms) to advanced topic seamless. Professors believe students of all skill levels should be able to learn one or two things from this material.
Unlike before, you can now enjoy both hard and softcover editions. 
Author: Donald McQuarrie, Peter A. Rock, Ethan Gallogly

Publisher: University Science Books

Edition: Fourth edition (June 1, 2010)

Pages: 1116 Pages
6. Princeton Review AP Chemistry Premium Prep, 2022
This book is a great prep tool for students looking to score a perfect 5 in their examination. The comprehensive guide contains exam-style practice questions, content review and online access for extra practice.
Beyond making you understand A-level chemistry questions, this guide provides you with techniques to avoid traps and guess logically. You can also learn to improve your pace, create a study plan and work smarter.
There is a section for helpful pre-college information and learning basic laboratory procedures and equipment. Lessons are taught with a friendly tone and the content is the same for both hardcovers and kindles.
Author: The Princeton Review

Publisher: Princeton Review 

Edition: First edition (August 3, 2021)

Pages: 544 Pages
7. Cambridge International AS and A Level Chemistry Coursebook
The Cambridge International AS and A-level Chemistry Coursebook contains Cambridge-specific and A-level topics only. It is the standard textbook endorsed and recommended for Cambridge exams.
Each chapter contains simplified content, colorful illustrations and assessment questions necessary to track your growth. The package comes with a CD-ROM which contains answers to the multiple-choice (exam-styled) questions. You should back it up on your PC for additional protection.
Author: Lawrie Ryan, Roger Norris

Publisher: Cambridge University Press 

Edition: 2nd edition (September 15, 2014)

Pages: 502 Pages